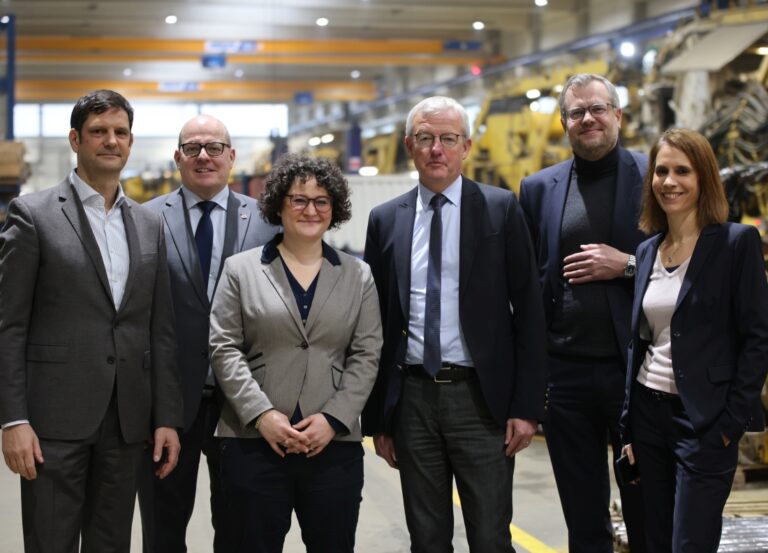 Minister Guido Beermann visits SPITZKE
On February 17th, SPITZKE welcomed Guido Beermann as a guest at the company's headquarters at GVZ Berlin South. Brandenburg's Minister of Infrastructure and Regional Planning took advantage of the opportunity to get to know SPITZKE and its capabilities regarding Germany's railroad infrastructure in person.
In addition to general topics, a focus was placed on the projects SPITZKE is implementing in Brandenburg and the role the company group has as an employer and training company in the region. The subjects discussed by Minister Beermann, Torsten Völker, Chief Revenue Officer, Dr. Kirsten Andernach, The Director of Processes and Strategy and Mark Fisher, Chief Technology Officer, were correspondingly diverse.
The Minister was particularly impressed with the extensive technology park which SPITZKE uses to implement a lot of its projects. Insight was provided by Mark Fisher during his tour of the over 200 m long factory hall where the track-laying machines are maintained. The program also included a visit to SPITZKE's training centre (ABZ) as well as the Equipment/​Electrical Engineering Department's workshop.
"People in Brandenburg can be proud that we have a company like SPITZKE, which is not only an important employer in our state, but also provides top service throughout Germany – especially when it comes to such an important topic as the mobility of our railroads," said Minister Guido Beermann during his visit to the railroad infrastructure company. "I'm delighted to have been welcomed so openly and to have had the opportunity to take a look behind the scenes. I'm thrilled to see the commitment from SPITZKE's employees and to see that the company has a clear view of the future. I'm especially impressed by the tone of communication at SPITZKE. One clearly sees that good team spirit prevails here."