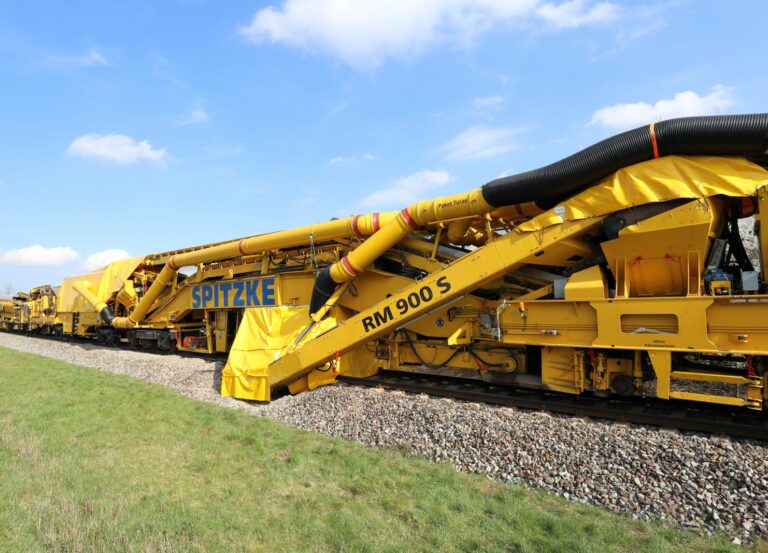 Ready for 4080: Dust Extraction Successfully Tested
SPITZKE SE's RM 900 S cleaning machine has been equipped with an innovating dust extraction system for the work being done in the tunnels of the Mannheim-Stuttgart (SFS4080) high-speed line. SPITZKE's own invention has now passed its test run with flying colors in the presence of experts from the Federal Railway Authority and the BG Bau.
Numerous modifications to the track-laying machine were necessary to use the new technology. The most obvious of these are the yellow tarpaulin enclosures at the points where dust is generated during construction, as well as the four human-wide suction pipes which lead from the respective suction areas to the filter section. These are located on two specially added wagons between the main unit and the tamping unit of the RM 900 S. The filter units come from the ventilation specialist CFT, who developed this innovative new technology together with SPITZKE.
The development is currently unique in the industry. The dust extraction required for construction projects in tunnels is no longer carried out from the adjacent track, as was previously done and tested in other pilot projects, but rather is implemented into the machine. This means that single-track tunnel construction sites may also be guaranteed in the future while taking into account the required occupational health and safety regarding the associated air quality.
The SPITZKE Group is revitalizing the ICE line SFS4080 on behalf of the Deutsche Bahn using assembly line techniques. The main work will begin on April 10th. The route also includes 15 tunnels which will place special demands on machine processing. Current information on the progress of the construction project can be found in our ticker.