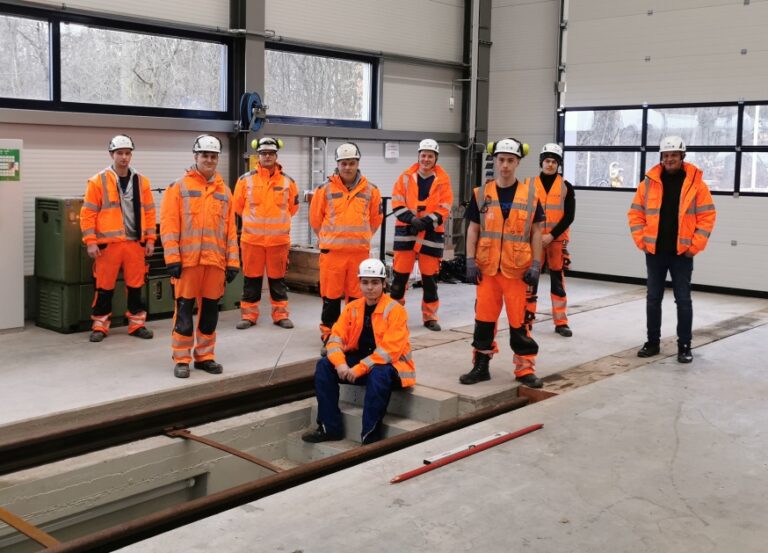 Trainees create the workshop and washing tracks at SPITZKE's Erlensee site
It was a special kind of training project. At the Centre of Excellence in Erlensee, trainees from the SPITZKE Railway Construction and Civil Engineering Division built two tracks on their own, each around 25 metres long. They were supported by their trainer and colleagues from the Large-Scale Projects/​Structural Engineering Division.
It was not an everyday task. The tracks are a workshop track and a washing track outside the workshop hall at the recently opened SPITZKE location in Erlensee. Both are so-called zero tracks, which must be perfectly aligned with each other in order to enable calibration of track-laying machines. Careful precision was required.
The track construction in Erlensee is the second major SPITZKE project within a short period of time that was implemented primarily by trainees. Last summer, a multi-track area was created in this way at SPITZKE's headquarters in Grossbeeren, where trainees can put their newly acquired knowledge to the test, independently of current construction projects. [Link to video] In the coming year, SPITZKE trainees will begin, as their own project, the connection of the factory site in Erlensee to the railway network.
For SPITZKE, these projects are an important part of training. They provide trainees with the necessary know-how to advance the railway infrastructure in Germany, in an in-depth way that is hardly possible under real-world conditions with construction projects that have closely timed closure periods.